Buy a House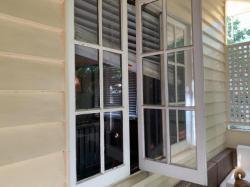 MORGAN New listing not to be missed
POA
Three bedroom house renovated whilst maintaining the original charm of a post war constructed weatherboard house with the traditional 'tin roof'. Clever use of timber decoration to off set vj walls with some plasterboard sheeted and ceiled rooms. Decorative plaster ceilings enhanse the major rooms 2800mm above the floor.
Timber floors of polished hardwood in most rooms. Floor coverings can be removed in others to reinstate the original floors. Timber decoration has been used extensively to compliment vj walls and to add an air of mystery throughout.
Three large bedrooms with decorative windows are serviced by one and one half modern bathrooms. Kitchen has been updated from the original and occupies a controlling position in the house.
Living areas are extensive and thoughtfully decorated by traditional windows and timber decoration.
House is priced for relocation to your site within 100km of its present location and sited on 600mm high rhs steel posts. Costings can be provided for sitings in excess of 100km of the present location and positioned on stumps in excess of 600mm above the ground.
BHR will assist in obtaining Council Approval to relocate the house to your site. All expenses involved with approvals and the like are the responsibility of the purchaser.
Act now. This house will not be long on the market.
This house deserves your consideration. Viewings can be arranged by calling Geoff Collins.. 0418 873 026. Appointments can be made with 24 hour notice.
Loading images. Please wait...