Buy a House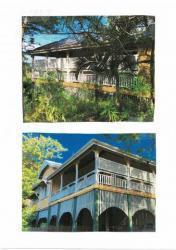 A genuine CHARACTER HOUSE that can be relocated in Brisbane or out of Brisbane. A house like this seldom becomes available.
Three (3 ) built in bedrooms, extensive open verandas, pressed metal cornices, period fireplace, polished timber floors, vj walls and high 3600mm (12 feet in old terms) vj ceilings.
There is limited time to have the house removed from the site. Please do not delay your inspection.
Only purchasers ready to obtain approval from their Council in the short term can be considered.
The initial price for the house will include transport to your site within a distance of 100km of the present location in Brisbane and resited on 600mm steel stumps by a reputable house removal company. The shift price can be varied at your cost for distances in excess of 100km and stump heights in excess of 600mm.
BHR will assist in obtaining your Council approval at your cost.
The house is now available for inspection by appointment.
Please contact Geoff Collins for additional information or an appointment to inspect. Phone 0418 873 026.
Loading images. Please wait...