Welcome to Brisbane House Recyclers
Recyclers of HOUSES of DISTINCTION
For 25 years proudly promoting and providing houses for recycling
Brisbane House Recyclers (BHR) has recycled QUEENSLANDER HOUSES OF DISTINCTION to new sites for new owners throughout Southern Queensland and Northern New South Wales for a period of time in excess of 25 years. BHR has helped to preserve the architectural heritage of Queensland for many to enjoy visually and personally as well as saving other houses of distinction from demolition.
Brisbane House Recyclers was supported by Geoff Collins a registered builder now retired, an Architect and a Town Planner as a consultant in matters relating to Council Approvals involving the new receiving Councils. Geoff Collins has been on hand as a consultant over the life of Brisbane House Recyclers to offer advice on siting, environmental aspects of the relocation and planning matters where required by Councils.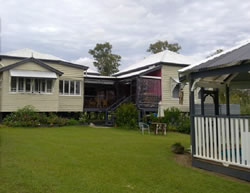 Brisbane House Recyclers Buys Houses
BHR will advise on the marketability of your home that may become redundant on its site as a result of a change in lifestyle resulting in the construction of a new house or as a result of a development over the site. BHR requires a steady flow of marketable houses to satisfy a growing demand for houses that can be relocated to a new site for a new owner. BHR will generally offer an immediate phone appraisal that may be confirmed by a site visit.
Brisbane House Recyclers Sells Houses of Distinction
Houses sourced by BHR will be offered for sale at reasonable prices for purchase by a new owner. The new owners will be offered sound and accurate advice on all aspects of purchasing and owning a removal home. The process is simple if undertaken in a structured way by a professional team that has been built up over time by Brisbane House Recyclers. BHR will guide new owners through the approvals process.
Your Removal Home
Many have found owning a removal home is a viable and economical way to own a home that compares more than favourably with contracting a 'one off' designer home. Many clients have been disappointed when the Tenders are in and the actual price is far in excess of estimates and the amount they wish to commit to a house.
A Removal Home can offer Classical Queenslander Design, with large rooms, high ceilings, traditional timber joinery and windows, wide boards in real timber polished floors and extensive wrap around verandas are all possible at a reasonable and known price.
Classical Queenslanders are not always the house of choice. Many house purchasers prefer a 'semi modern' home with better appointed kitchen and bathroom facilities in a house that requires 'little or no' work. just move in !!
Brisbane House recyclers does not store houses.
BHR has a policy of selling houses from site to site. BHR does not cut houses and place them in storage until a buyer comes along. In many cases the houses when cut and stored deteriorate as a result of weather intrusion, animal intrusion or lack of care and maintenance. BHR houses can be lived in on resiting.
Asbestos in houses
Many houses marketed for removal contain some asbestos products. BHR will market the houses with asbestos but will discuss the presence of asbestos with potential purchasers. Some Councils insist on the removal of asbestos before the house is permitted in the Council area. Some Councils are not concerned if the asbestos is fixed in position and unbroken. Potential Purchasers are also divided on the acceptability of asbestos. BHR will assist with either situation but cannot make an initial allowance for the removal of the product as removal may not be necessary. Initially check with your Local Council.
The Team
The pre-purchase stage of a removal home is of utmost importance. Advice will be given to potential purchasers on site selection, compatibility of house to land, reinstatement of the removal home on its new site and most importantly FINANCING the purchase.
The BHR purchasing team will ensure a constant flow of Houses of Distinction for your selection. View our website on a regular basis or contact by phoning Geoff or Chris (as above) for the latest purchase information.
Once contracted, Brisbane House Recyclers will ensure a smooth passage in obtaining Decision Notice (Building Approval) to relocate the home.
The management team of professional Architects and Project Managers will ensure a smooth and economical passage through Council and the Certification process by the use of knowledgeable consultants.
Our panel of removalists are experts in their field. We expect nothing less from our team as the success of any removal venture is the final resiting of the home on its new site.
Make a removal house your HOME.
Mission Statement
The Mission Statement of Brisbane House Recyclers so proudly stated will be maintained
To assist our clients in every aspect of purchasing a home and its relocation.
To be honest and fair in our dealings and to ensure our clients enjoy the experience.