Welcome to Brisbane House Recyclers
Proudly a family affair
Chris, Barney and Matthew Cain Recycling Homes- buying, selling and relocating…that's what we do.
About the people:
Chris has had 25 years experience in the removal house business, both in buying and selling relocatable homes in and around Brisbane, South East Queensland and northern NSW. Her particular interest is in restoration, renovation and interior design. Chris assists buyers to choose the right house for their needs, whether it be as a family home or a house for investment. She recognises the need to recycle precious materials, therefore removal homes are a great way of preserving not only our history but the timbers, windows, arches etc that have stood the test of time.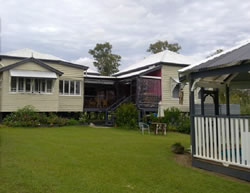 Barney has vast experience in the building industry. He has a keen eye for the structural integrity of the houses that we buy, therefore assuring our clients that we buy only houses that meet a high standard of construction, will survive being moved and offer many years of service at a new location. With years of restoration experience Barney can offer lots of handy advice concerning building material suppliers, tradesmen etc to assist in the "after sale" advice that only experience can provide. He also is a qualified asbestos removalist therefore, should the occasion arise we can assist in removing any asbestos material from the house.
Matthew does all the shifting, stumping, sliding, raising etc. He is a registered Builder and house removalist and runs his own business Cain House Removers. With a previous life as a builder, Matthew has the knowledge to ensure that any house that he relocates is prepared, delivered and stumped with the utmost care and skill. He has earned himself an excellent reputation in the removal house industry for his knowledge and expertise.
Our Mission Statement
To assist our clients in every aspect of purchasing a home and its relocation. To be honest and fair in our dealings and to ensure our clients enjoy the experience.
Chris can be contacted online or by calling her direct on Mob 0418 873 026